Rosenberg English Holocaust Haggadah For Passover: Holocaust Poems and Essays to Supplement the Seder
Paperback
– May 25, 2017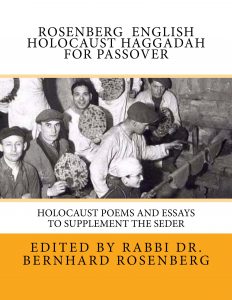 Rosenberg English Holocaust Haggadah for Passover is an exceptional publication that offers an easy to follow format completely in English for you to share with your family and friends for the Passover seder night. Rosenberg English Holocaust Haggadah for Passover is a great tribute to the holocaust survivors which offers a unique compilation of stories, essays, articles and poems from holocaust survivors and their children and grandchildren. Each story is remarkable. A variety of suggested questions and discussions are presented for you to share with your family at the seder table. Created by Rabbi Dr. Bernhard Rosenberg, editor of The Echoes of The Holocaust, Children and their Grand Children Speaks Out, this book is a treasure.
Top customer reviews
on July 27, 2017
Verified Purchase
It has been said that the loss of one person is a tragedy, but the deaths of millions are a statistic. The tragic scene of the mass grave of my parents, amid thousands of other Jews of my hometown in Dubno, Poland, has been inscribed deeply in my mind and I will never forget. As a survivor, I fear that the memory of the tragic loss of six million of my brethren may become a statistic and will fade away, year by year. Rabbi Dr. Ben Rosenberg has made an important contribution to memorialize the six million martyrs in his Holocaust Haggadah.
Passover has now become the diaspora's most important Jewish family gathering - to celebrate our birth as a free people.
Rabbi Rosenberg has melded the commemoration of the loss of two-thirds of our people in Europe to that celebration. His great feat may, indeed, revitalize and prolong the memories of both events.
I read the Rosenberg Haggadah and was impressed how carefully Rabbi Rosenberg preserves the integrity of the traditional Haggadah and still manages to skillfully weave in personal experiences and noteworthy tragic events of the Holocaust. The Rosenberg Haggadah needs to be read at each Passover seder in every Jewish home. I wish to congratulate the Rabbi and thank him for his tireless efforts to keep the memory of the Holocaust alive.
on June 25, 2017
Verified Purchase
It was a huge honor and privilege for me to contribute to Rosenberg's Haggadah as part of the Haggadah Project. People from all over the world participated with poems, articles and essays for the purpose of preserving the Holocaust for future generations and explaining from the heart what it means to be a Jew, to study Torah, to preserve the holidays, retelling the story of the Exodus yearly at Passover as a way of keeping alive the memory of beloved family murdered in the Holocaust and of those who survived with their lives and family history forever changed. G-d's chosen people have continued to survive despite hatred and destruction through the ages. To read through traditional reciting of psalms and songs with love in our hearts affirms our blessed purpose of Jewish life on this Earth. This Haggadah is a precious gift to be cherished through the generations. If we don't remember past tragic history, we may be doomed to repeat it.
on July 10, 2017
Thank you , Rabbi Rosenberg, for providing such a rich resource to add the experience of our people in modern times into the context of the retelling of our account of liberation from slavery over 3000 years ago. The material can also serve as source content for other occasions of remembrance, as during the Martyrology of Yom Kippur.